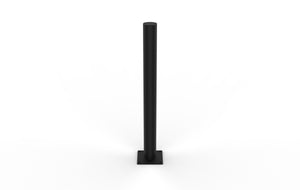 Key features include:
The D-Flexx Delta flexible bollard absorbs the impact energy during minor collisions. The flexible material polyethylene is left intact and in turn does not damage the vehicle. Because of its size, it is the ideal product to mark and protect small spaces. In addition, it can be used as a doorstop for the Juliet swing door.
Key Features of the D-Flexx Delta Pedestrian Barrier Starter Bay 3 Beam include:
Flexible impact protection
The flexible material deforms and returns after a collision to its original shape
For outdoor and indoor use
100% recyclable
Designed to suit Australian workplaces conditions
Mounting hardware included
Easy Installation or installation available (request a quote)
Helping you comply with your WHS Obligations
The fixing material is included with the delivery for the D-Flexx Delta flexible bollard.  Also available are slider plates for easy portability.