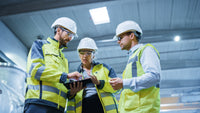 Who is Proactive Group Australia?
Proactive Group Australia is a client-focused organisation committed to assisting small to medium-sized business owners throughout Australia in creating better places to work through systems, services, products and ongoing stakeholder engagement.
We believe that workplaces should be safe, healthy, efficient and environmentally friendly. Our team of consultants are passionate about improving workplaces and providing end to end solutions.
Learn More
Systems and Services
Whether you require documentation, implementation assistance, systems maintenance, inspections, auditing or certification our consultants can assist you on the path to certification and compliance.
Products
We supply a wide range of products to assist businesses implement systems and create a better workplace.