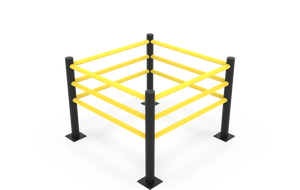 Key features include:
The D-Flexx Delta column protector consists of four corner posts of the Delta Safety Barrier, which are connected with the associated spar sets to form a square.
Key Features of the D-Flexx Delta Pedestrian Barrier Starter Bay 3 Beam include:
Flexible impact protection
The flexible material deforms and returns after a collision to its original shape
For outdoor and indoor use
100% recyclable
Designed to suit Australian workplaces conditions
Mounting hardware included
Easy Installation or installation available (request a quote)
Helping you comply with your WHS Obligations
The height of the column protection amounts to 1200 mm, the spar sets can be ordered in lengths of 705 mm and 1510 mm. Of course, the column protection Delta also offers the possibility of ordering individual lengths between 350 mm and 1510 mm.