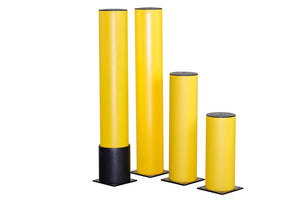 Key features include:
Proactive Group Australia's flexible D-Flexx Bravo Flexible Bollards absorb the impact energy in a collision. In contrast to bollards made of steel, where the impact energy is transfered to the ground through the concrete fixings: the breaking out is minimized by the bollard absorbing the impact. The processed polyethylene does not damage the bollard and the vehicle and the maintenance costs are noticeably minimized. 
Due to its robustness and high visibility, the bollard is ideal to be installed on parking lots, entrances and for separation of pedestrian areas. The D-Flexx Bravo Flexible Bollards are available in diameters of 200 mm and height of 1200 mm.
The fixing screw bolts are always included in the delivery. 
Also available are slider plates for removable bollard applications.