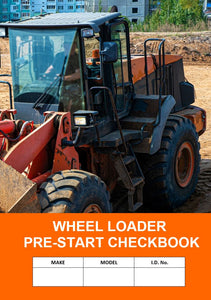 Key features include:
Our Wheel Loader Pre Start Check and Maintenance Logbook offers an easy-to-use checklist to ensure that your wheel loader is fit for use. This logbook provides a comprehensive pre-start check and maintenance record, with every premium feature you need to make sure your wheel loader is running optimally.
Key features include:
Handy A5 size logbook
Daily pre-start checks
Maintenance recording
Recording for 52 weeks, 7 days per week
Supplied in a resealable plastic pocket
Can be customised to your requirements
Printed in Australia
Enquire today about customising the checklist or adding you logo. Quantity discounts are available, request a quote.
Can't find what you are looking for? We customise to your requirements. Contact us or phone 1300 553 371 to discuss your needs.