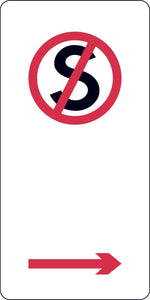 Key features include:
This full-sized Traffic Sign 'No Standing (Right Arrow)' is constructed of durable aluminium and comes pre-drilled with mounting screws. It provides a clear, unambiguous instruction to prevent standing vehicles, ensuring compliance and the safety of all.
Traffic signs are used to communicate important information to traffic in or near  the workplace.
Complies with AS 1319.
Available in various materials and sizes.