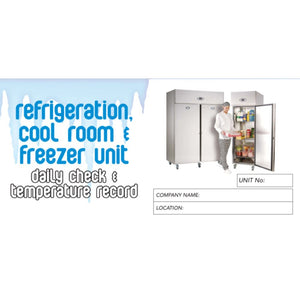 Key features include:
Product Description: This daily check and temperature record is designed to ensure the proper functioning and temperature control of refrigeration, cool rooms, and freezer units. It provides a convenient and organized way to monitor and document temperature readings, ensuring the safety and quality of stored goods.
Features:

Easy-to-use checklist format
Space to record temperature readings
Sections for recording date, time, and initials of the person conducting the check
Handy DL size logbook
Daily pre-start checks
12-month recording for 7 days per week
Fault report system
Supplied in a resealable plastic pocket
Easy to use
Australian made
Helping you comply with your WHS obligations
Can't find what you are looking for? We customise to your requirements, no minimum quantity. Contact us or phone 1300 553 371 to discuss your needs.