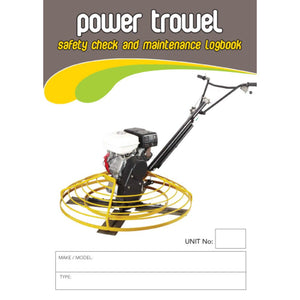 Key features include:
Product Description: The Power Trowel Safety Pre Start Checklist and Maintenance Logbook is a comprehensive tool designed to ensure the safe operation and maintenance of power trowels. This logbook includes a pre-start checklist that covers all essential safety checks before using the power trowel, as well as a maintenance log to track regular maintenance tasks and ensure the equipment is in optimal condition.
Key Features of a Power Trowel Safety Check and Maintenance Logbook:
• Handy A5 Size Logbook
• Daily Pre-Start and After Start Checks
• 12 Month Recording for 7 days per week
• Fault Report System
• Servicing Details
• Preferred Service Providers
• Supplied in a resealable plastic pocket
• Easy To Use
• Australian Made & Owned
• Helping you comply with your WHS Obligations
Order online today with Proactive Group Australia and we will dispatch your Power Trowel Safety Check and Maintenance Logbook or
Contact us
on 1300 553 371 to discuss your requirements.