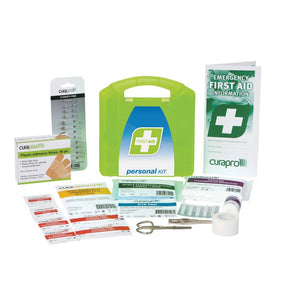 Key features include:
The Plastic Portable Personal First Aid Kit is the ideal grab & run compact First Aid Kit, to fit any glove box or backpack.
Key Features:
Compact design for portability.
Internal compartments for fast-find of contents.
Ideal kit where a budget protective case is required.
Strong and durable First Aid Kit Box
Case: Plastic Portable

Dimensions: 175 (W) X 185 (H) X 70 (D)

Pack Inclusions:

25 x FRD003 ADHESIVE STRIPS, PLASTIC, 72 X 19MM
2 x FRC442 ALCOHOL WIPE, SACHET
2 x FRC450 WOUND CLEANSING WIPE, NON-STING, SACHET
1 x FRD236 COMBINE DRESSING, 10 X 10CM, STERILE
1 x FRB205 CONFORMING BANDAGE, 5CM, WHITE
1 x FRG002 DISPOSABLE GLOVES, LARGE, PAIR
1 x FLB001 EMERGENCY FIRST AID INFORMATION BOOKLET, BASIC, DL SIZE
1 x FRD107 EYE PAD, STERILE
1 x FRI141 SPLINTER FORCEPS, STEEL, 9CM
1 x FRT001 PAPER TAPE, 1.25CM X 9M, HYPO-ALLERGENIC, WHITE
2 x FRC460 POVIDONE IODINE SWABS
12 x FRI012 SAFETY PINS, ASSORTED
1 x FRI101 SCISSORS, STEEL, 9CM
5 x FRI036 SPLINTER PROBE, DISPOSABLE
1 x FRB620 TRIANGULAR BANDAGE, DISPOSABLE, LARGE, WHITE
Intended Purpose
A convenient collection of equipment and materials for the rapid, initial treatment of an injury.
Health Warning
Always read the label and follow the Directions for use.