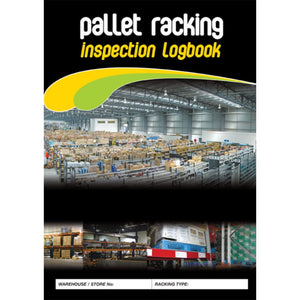 Key features include:
Product Description: The Pallet Racking Inspection Logbook is a comprehensive tool designed to ensure the safety and compliance of your warehouse storage system. With detailed checklists and record-keeping sections, this logbook allows you to easily document and track the condition of your pallet racking, identify any potential hazards, and schedule necessary maintenance or repairs.

Key features include:
Handy A4 size logbook
Provision for location/warehouse.
Daily checks 12 months recording: columns, rails, rail pins and bollards.
Damage recording and corrective action details.
Supplied in a resealable plastic pocket
Easy to use
Australian made
Helping you comply with your WHS obligations
Can't find what you are looking for? We customise to your requirements, no minimum quantity. Contact us or phone 1300 553 371 to discuss your needs.