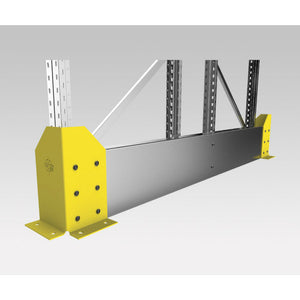 Key features include:
Proactive Group Australia supplies a range of Pallet Rack End Protector Double to industries Australia wide. They are designed to suit every workplace.
Key Features
Minimal space required for mounting
Reduces damage to racks from forklifts. It improves employee safety and protects your assets
Designed to absorb impacts from forklifts, vehicles and trolleys
Extremely strong steel construction – Prevents costly damage to racking
Galvanised and powder-coated – highly visible and won't rust
2250L x 400H (MM) – To suit back to back pallet racking
Comes in kit form (all fixings included)
Complies with Australian standard: AS4084-2012
Designed to suit Australian workplaces conditions
Modular to suit most size areas
Easy installation
Installation available on request
Australian Owned
Helping you comply with your WHS Obligations
Code: WTMP-2512-RP-REP-2250-D

Order online today with Proactive Group Australia and we will dispatch your Pallet Rack End Protector Double or Contact us on 1300 553 371 to discuss your requirements.