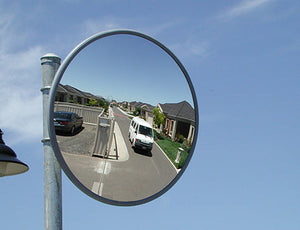 Key features include:
Outdoor Acrylic Convex Mirrors are weatherproof and are designed for general outdoor areas. The outdoor adjustable bracket is built to last, and the specialized curve design is formed from optical grade 100% virgin acrylic and vacuum metalized from 99% pure aluminium for a superior clear reflection with no distortion.
Suitable for many traffic safety and industrial situations, this outdoor safety mirror is easy to install, and the fully adjustable bracket allows the mirror to be angled at the most effective position.

Key Features

Outdoor applications for moderate weather and exposure.
Industrial safety situations where a robust mirror is required.
Driveways and carparks.
Outdoor surveillance, security and observation.
Loading bays and distribution centres.
Five Year Warranty against faulty workmanship and materials
All weather double sealed mirror
Wall fitting standard or 60mm and 75mm U-Bolt Kit
Fully framed mirror with 10mm Celuka rot-proof frame
Mirror face manufactured from 2mm or 3mm 'optical grade' acrylic
Zinc plated steel fittings.
Super Strong J-Bracket fitting provides superior adjustment and rigidity.
(4 hole) mounting - suitable for fixing to flat surfaces.
Easy installation - low maintenance.

Can be pole mounted with 60mm or 75mm U-Bolt Kit.