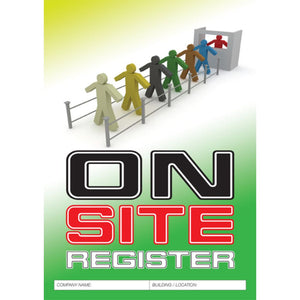 Key features include:
On Site Register Visitor Logbook is designed to ensure your facility meets safety standards, providing an efficient way to log entries and exits with minimal disruption.

Key features include:
Handy A4 size logbook
52 pages x 22 entries.
Details for the time in/out, vehicle info, work area, permits & safety wear.
Supplied in a resealable plastic pocket
Easy to use
Kit contains the relevant logbook, pouch, danger tags and velcro mounting tabs
Australian made
Helping you comply with your WHS obligations
Can't find what you are looking for? We customise to your requirements, no minimum quantity. Contact us or phone 1300 553 371 to discuss your needs.