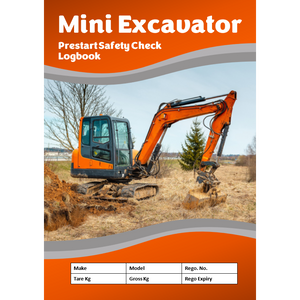 Key features include:
This Mini Excavator Safety Pre Start Check and Maintenance Log Book helps ensure safety on the job site with daily maintenance and pre start checklists, helping to reduce operational risks. The book features simple to use checklists for fast and accurate upkeep on the equipment. Ensure your workers are staying safe, machinery works effectively is being maintained and services recorded with our safety pre start checklist log books.

Key features include:
Handy A5 size logbook
For Excavators up to 12 tonne
Daily pre start checklists for excavator
12-month recording for 7 days per week
Fault report system
Servicing details/recommendations, spare parts list
Preferred service providers
Supplied in a resealable plastic pocket
Easy to use
Australian made
Helping you comply with your WHS obligations
Can't find what you are looking for? We customise to your requirements, no minimum quantity. Contact us or phone 1300 553 371 to discuss your needs.