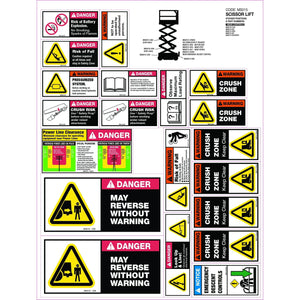 Key features include:
Product Description: Keep your workplace safe with our Machinery Safety Sticker/Decal Set for Scissor Lifts. These high-quality, durable stickers are designed to provide clear and concise safety information to operators and workers. The set includes a variety of stickers, including warning labels, safety instructions, and hazard identification labels, all specifically designed for scissor lifts.
Features:

High-quality backing material
Weather-resistant and durable
Easy to apply
Includes a variety of safety stickers for scissor lifts
Benefits:

Clearly communicate safety information to drivers and workers
Promote a safe work environment
Comply with safety regulations and standards
Easy to apply and remove, allowing for updates and changes as needed.
Contains:
Danger Stickers
Notice Labels
Warning Labels
Pinch Point Stickers
Emergency Stop Sticker
Operator Daily Check Sticker
Code: P-LAB-2503-MSS015