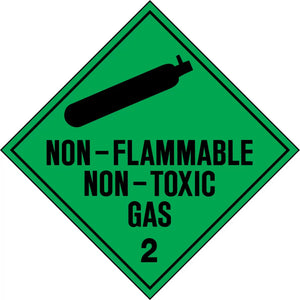 Key features include:
Product Description: The Hazchem Non-Flammable Non-Toxic Gas 2 Sign is a safety sign designed to indicate the presence of non-flammable and non-toxic gases in a specific area. It is essential for ensuring the safety of individuals working with or around these gases.
Features:
Clearly visible and easily recognizable design
Made from durable materials for long-lasting use
Weatherproof and suitable for both indoor and outdoor applications
Easy to install with pre-drilled holes for mounting
Available as stickers
Compliant with relevant Australian safety regulations and standards
Benefits:
Promotes safety by alerting individuals to the presence of non-flammable and non-toxic gases
Helps prevent accidents and potential hazards in the workplace
Provides clear and concise information for emergency responders in case of an incident
Enhances overall safety protocols and compliance with safety regulations.