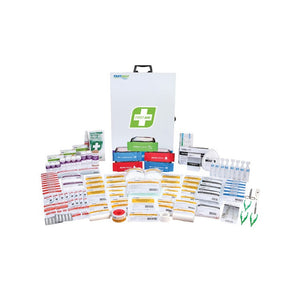 Key features include:
The R4 Industra Medic Kit (Metal Wall Mount) is one of the biggest and best in our R4 range, especially suited to first aid rooms, etc. and is suitable for 1-50 person requirements in a High Risk application.
Complies with WHS 2016 Regulations for Workplaces
Additional modules to make contents easily locatable
Hospital grade contents to provide effective response to injuries
Fully kitted out metal wall-mountable cabinet
Also available in Plastic Case and Soft Pack variations to bring maximum performance to your situation (BONUS wall-mount bracket for plastic and soft pack)
Case: Metal Wall Mount Cabinet

Dimensions: 410 (W) X 575 (H) X 130 (D)

Pack Inclusions:

1 x FRA901 ACCIDENT REPORT NOTE BOOK WITH PENCIL
50 x FRD020 ADHESIVE STRIPS, FABRIC, 72 X 19MM
50 x FRD005 ADHESIVE STRIPS, PLASTIC, 72 X 19MM
4 x FRC442 ALCOHOL WIPE, SACHET
1 x FRS023 ANTISEPTIC LIQUID/STING RELIEF, 50ML, SPRAY BOTTLE
1 x FFRI066 BOWL GALIPOT 60ML CLEAR
1 x FRH502 COLD PACK, INSTANT, LARGE
1 x FRD236 COMBINE DRESSING, 10 X 10CM, STERILE
3 x FRD237 COMBINE DRESSING, 10 X 20CM, STERILE
2 x FRB210 CONFORMING BANDAGE, 10CM, WHITE
3 x FRB205 CONFORMING BANDAGE, 5CM, WHITE
3 x FRB207 CONFORMING BANDAGE, 7.5CM, WHITE
60 x FRC260 COTTON BALLS
100 x FRC100 COTTON TIPS, DOUBLE ENDED, 7.5CM
1 x FLL500 CPR FLOWCHART, WALLET SIZE
1 x RCF050 CPR MASK, POCKET SIZE IN PLASTIC CLAM SHELL CASE WITH OXYGEN PORT
1 x FRB410 CREPE BANDAGE, HEAVY WEIGHT, 10CM, BROWN
5 x FRG002 DISPOSABLE GLOVES, LARGE, PAIR
3 x FRI142 DRESSING FORCEPS, PLASTIC, 11CM
1 x FRD401 DRESSING PACK, BASIC #1, STERILE
1 x FLB001 EMERGENCY FIRST AID INFORMATION BOOKLET, BASIC, DL SIZE
1 x FRA111 EMERGENCY SHOCK BLANKET, SILVER SPACE
4 x FRD107 EYE PAD, STERILE
8 x FRS101 EYE WASH SOLUTION, 30ML AMPOULE
1 x FRD026 FABRIC DRESSING STRIP, 75MM X 1M
2 x FAMB30 FIRST AID MODULE, BURN, SOFT PACK (20 PIECES)
2 x FAME30 FIRST AID MODULE, EYE & WOUND DRESSING, SOFT PACK (73 PIECES)
1 x FAMO30 FIRST AID MODULE, OUTDOOR, SOFT PACK (7 PIECES)
25 x FRC402 GAUZE SWAB, 7.5 X 7.5CM
5 x FRH003 HYDROGEL BURNS GEL, 3.5G SACHET
1 x FFRI060 KIDNEY TRAY, PLASTIC,200ML GREEN
1 x FRD307 NON-ADHERENT DRESSING, 10 X 10CM, STERILE
3 x FRD306 NON-ADHERENT DRESSING, 10 X 7.5CM, STERILE
6 x FRD302 NON-ADHERENT DRESSING, 5 X 5CM, STERILE
1 x FRT002 PAPER TAPE, 2.5CM X 5M, HYPO-ALLERGENIC, WHITE
Intended Purpose
A convenient collection of equipment and materials for the rapid, initial treatment of an injury.
Health Warning
Always read the label and follow the Directions for use.