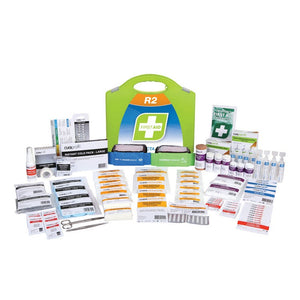 Key features include:
The R2 Workplace Response Kit (Plastic Case) is the ideal standard first aid kit, and is suitable for 1-25 person requirements in Low Risk applications
Complies with WHS 2016 Regulations for Workplaces.
Standard workplace kit that contains contents specific to WHS requirements for Australian workplaces.
Entry level kit for workplaces where additional risks do not exist. Note: this kit does not cover high risk work.
Fully kitted out portable plastic case
Also available in Metal Wall Mount Cabinet, Plastic Tackle Box-style case, and Soft Pack variations to bring maximum performance to your situation (BONUS wall-mount bracket for plastic and soft pack)
Strong and durable First Aid Kit Box
Case: Portable Plastic Case

Dimensions: 355 (W) X 330 (H) X 100 (D)

Pack Inclusions:

1 x FRA901 ACCIDENT REPORT NOTE BOOK WITH PENCIL
50 x FRD005 ADHESIVE STRIPS, PLASTIC, 72 X 19MM
4 x FRC442 ALCOHOL WIPE, SACHET
1 x FRS023 ANTISEPTIC LIQUID/STING RELIEF, 50ML, SPRAY BOTTLE
1 x FFRI066 BOWL GALIPOT 60ML CLEAR
1 x FRH502 COLD PACK, INSTANT, LARGE
1 x FRD237 COMBINE DRESSING, 10 X 20CM, STERILE
3 x FRB205 CONFORMING BANDAGE, 5CM, WHITE
3 x FRB207 CONFORMING BANDAGE, 7.5CM, WHITE
100 x FRC100 COTTON TIPS, DOUBLE ENDED, 7.5CM
1 x FLL500 CPR FLOWCHART, WALLET SIZE
1 x FRB410 CREPE BANDAGE, HEAVY WEIGHT, 10CM, BROWN
5 x FRG002 DISPOSABLE GLOVES, LARGE, PAIR
1 x FLB001 EMERGENCY FIRST AID INFORMATION BOOKLET, BASIC, DL SIZE
1 x FRA111 EMERGENCY SHOCK BLANKET, SILVER SPACE
4 x FRD107 EYE PAD, STERILE
8 x FRS101 EYE WASH SOLUTION, 30ML AMPOULE
25 x FRC402 GAUZE SWAB, 7.5 X 7.5CM
5 x FRH003 HYDROGEL BURNS GEL, 3.5G SACHET
1 x FFRI060 KIDNEY TRAY, PLASTIC,200ML GREEN
1 x FRD307 NON-ADHERENT DRESSING, 10 X 10CM, STERILE
3 x FRD306 NON-ADHERENT DRESSING, 10 X 7.5CM, STERILE
6 x FRD302 NON-ADHERENT DRESSING, 5 X 5CM, STERILE
1 x FRT002 PAPER TAPE, 2.5CM X 5M, HYPO-ALLERGENIC, WHITE
1 x FRA005 PLASTIC BAG, RESEALABLE, LARGE
1 x FRA004 PLASTIC BAG, RESEALABLE, MEDIUM
1 x FRA003 PLASTIC BAG, RESEALABLE, SMALL
6 x FRC460 POVIDONE IODINE SWABS
1 x RCF035 RESUSCITATION FACE SHIELD, DISPOSABLE WITH NON-RETURN VALVE
12 x FRI012 SAFETY PINS, ASSORTED
1 x FRI100 SCISSORS, STAINLESS STEEL, 12.5CM
1 x FSC001 SHARPS CONTAINER, PLASTIC, 100 ML, YELLOW
1 x FRI140 SPLINTER FORCEPS, STAINLESS STEEL, 12.5CM
10 x FRI036 SPLINTER PROBE, DISPOSABLE
2 x FRB630 TRIANGULAR BANDAGE, COTTON, LARGE, WHITE
10 x FRC450 WOUND CLEANSING WIPE, NON-STING, SACHET
25 x FRT140 WOUND CLOSURE STRIPS, 3 X 75MM
1 x FRD513 WOUND DRESSING, NO.13, STERILE
1 x FRD514 WOUND DRESSING, NO.14, STERILE
1 x FRD515 WOUND DRESSING, NO.15, STERILE
Intended Purpose
A convenient collection of equipment and materials for the rapid, initial treatment of an injury.
Health Warning
Always read the label and follow the Directions for use.