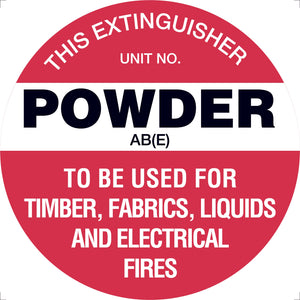 Key features include:
Description: This marker sign is designed to be placed above a fire extinguisher to clearly indicate that it contains powder AB(E). It helps to ensure that individuals can quickly identify the type of fire extinguisher and use it appropriately in case of a fire emergency.
Features:
Clearly labeled with "Powder AB(E)" for easy identification
Made from durable materials for long-lasting use
Easy to install with adhesive backing or pre-drilled holes for mounting
Highly visible with bold lettering and contrasting colours
Benefits:
Promotes fire safety by providing clear information about the type of fire extinguisher
Helps individuals make informed decisions during a fire emergency
Enhances the effectiveness of fire safety measures in buildings and facilities
Complies with Australian safety regulations and standards for fire extinguisher signage.
We accept purchase orders from Government Departments & Schools