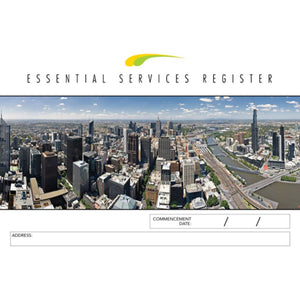 Key features include:
The Essential Services Register is an essential tool for creating an inventory of safe, reliable services in high-risk areas. It helps to quickly identify available services and address critical needs in times of crisis, increasing safety and efficiency. With built-in data accuracy, it ensures an up-to-date register of essential services.

Key features include:
A4 size
10 years recording
32 scheduled checks. (colour-coded)
Fault reporting
Service/maintenance record
Supplied in a plastic case
Australian made
Helping you comply with your WHS obligations
Can't find what you are looking for? We customise to your requirements, no minimum quantity. Contact us or phone 1300 553 371 to discuss your needs.