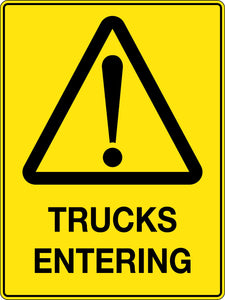 Key features include:
This 'Caution Trucks Entering' sign is a workplace-grade traffic safety management sign designed to clearly mark areas where truck traffic is present. Available in corflute, poly and aluminium, it comes predrilled with screw holes for easy installation in a variety of settings. Ideal for any workplace traffic management plan.
Caution signs are to warn of hazards or a hazardous condition that is not likely to be life threatening.
Complies with AS 1319.
| | |
| --- | --- |
| Code |  Size |
| P-SIGN-2503-375LC | 600 x 450mm - Corflute |
| P-SIGN-2503-375LM | 600 x 450mm - Metal |
| P-SIGN-2503-375LP | 600 x 450mm - Poly |