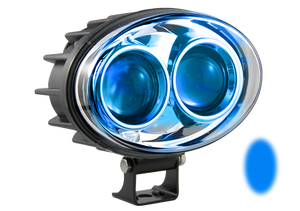 Key features include:
Proactive Group Australia is a leading supplier of AusProTec Blue LED Forklift Warning Dot Lights, specifically designed and manufactured to improve WHS outcomes. These state-of-the art blue dot forklift warning lights project an exclusion blue warning dot onto warehouse floors to visually alert personnel that a forklift is approaching.
Forklifts often operate in high-traffic areas where audible warning sirens and alarms sometimes provide little to no impact on busy and loud workplace environments.  To increase WHS outcomes, blue forklift safety lights deliver high-intensity indicators with long-range visibility; creating maximum forklift lighting safety impact for any indoor or outdoor application.
Available in blue and red, this forklift halo light is specifically designed to project a beam onto the floor of your warehouse alerting all employees and other machine users that the vehicle is approaching.
Blue LED Forklift Warning Dot Light 
Features & Benefits
Voltage: 9 – 60 Volts DC

Power: 2 x 3 Watt Cree LEDs

Material: Die-cast aluminium housing

Reflector and lens: Polycarbonate

Mounting bracket: Stainless steel

Termination: 0.5 metre flying lead

Beam pattern: Spot

Colour: Blue Dot

Fitting available
Code: P-WTMP-2549-Warn-Dot-Blue
Shipping Australia-Wide | Compliant Installation Available | 
Premium Quality Forklift Warning Lights
Contact the team at Proactive Group Australia today at 1300 553 371 to discuss your requirements or order online for Australia Wide Shipping.
Return to ALL Forklift Halo Light Safety Warning Lights
View other products - Blue Lights on Forklift
Click here to view our Workplace Traffic Management Consulting Solutions.