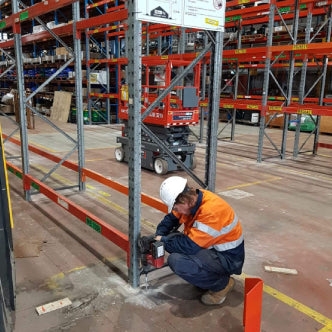 Pallet Racking Repairs
Proactive Group Australia provides a pallet racking maintenance and repair service to clients across Australia for most popular brands of racking.
Pallet rack repairs are an ongoing requirement in most warehouse and distribution centres due to damage from the impact of forklifts and reach-trucks. This pallet rack damage usually occurs at lower levels, compromising the integrity of the pallet racking structure.
The pressure to maintain continuous product flow often overrides replacement of damaged pallet racks. Our trained installers can dismantle and replace faulty and damaged components restoring the racking to serviceable condition. we repair most brands of pallet racking with OEM or compatible components.
Proactive Group Australia offers a pallet rack repair service to repair pallet racking and protect it from rack failures or rack collapses.
To further ensure rack safety, Proactive Equipment offers a wide range of rack safety products that installed by our trained personnel.
Proactive Group Australia consultants can develop a scheduled maintenance inspection program, to ensure pallet rack system longevity and safety.  An ongoing program can save money and alleviate costly downtime in any warehouse or distribution centre.