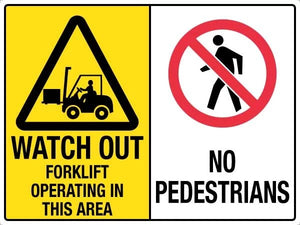 Key features include:
Product Description: This highly visible sign is designed to alert individuals to the presence of forklifts operating in the area and to remind pedestrians to stay clear. The sign features clear pictograms that are universally understood, making it effective for multi-lingual environments. It is made from durable materials that can withstand outdoor conditions and is easy to install in various locations.
Features:
Highly visible design with bold colours and clear pictograms
Made from durable materials for long-lasting use
Suitable for indoor and outdoor environments
Easy to install with pre-drilled holes
Complies with Australian Standards and regulations
Benefits:
Increases safety by alerting individuals to the presence of forklifts
Helps prevent accidents and injuries in areas with forklift operations
Universally understood pictograms ensure clear communication
Durable construction ensures the sign remains effective in various conditions.