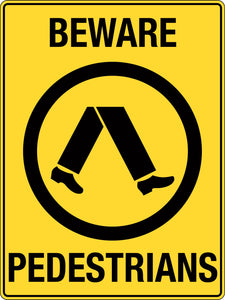 Key features include:
Product Description: This traffic sign features a clear and bold "Beware Pedestrians" message accompanied by a pictogram of a person walking. It is designed to alert drivers to the presence of pedestrians in the area and encourage them to exercise caution and reduce their speed.
Features:
High visibility: The sign is made from durable materials with yellow background, ensuring it is easily visible day and night.
Weather-resistant: Built to withstand various weather conditions, including rain, snow, and UV exposure.
Easy installation: The sign comes with pre-drilled holes for quick and hassle-free mounting on poles or walls.
Benefits:
Enhanced safety: By prominently displaying the "Beware Pedestrians" message, the sign helps to increase driver awareness and reduce the risk of accidents involving pedestrians.
Compliance with Australian regulations: This traffic sign meets the Australian Standard 

AS 1319

.
Clear communication: The combination of the text and pictogram provides a clear and concise message that can be easily understood by drivers of all backgrounds and languages.