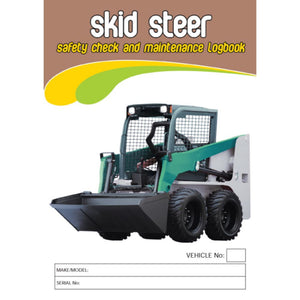 Key features include:
Product Description: This logbook is designed to help skid steer operators keep track of their pre-operational safety checks and maintenance tasks. It features a duplicate copy system, allowing operators to keep one copy of the pre start check for themselves and submit the other to their supervisor or safety officer for record-keeping purposes.

Key features include:
Handy A5 size logbook
Daily prestart & after start checks
50 sets per book, 7 days per sheet
Carbonless tear out duplicate - 1 shift per day
Fault reporting
Servicing details
Preferred service providers
Supplied in a resealable plastic pocket
Easy to use
Kit contains the relevant logbook, pouch, danger tags and Velcro mounting tabs
Australian made
Helping you comply with your WHS obligations
Can't find what you are looking for? We customise to your requirements, no minimum quantity. Contact us or phone 1300 553 371 to discuss your needs.