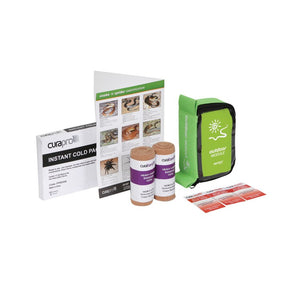 Key features include:
Outdoor Module
Key Features:
Compact outdoor module packed into a neat soft case.
Contains the essential contents for effectively treating common outdoor injuries such as snake bites.
Case: Soft Pack

Dimensions: 100mm (w) x 150mm (h) x 60mm (d)

Pack Inclusions:

1 x FRH498 COLD PACK, INSTANT, STANDARD
2 x FRB410 CREPE BANDAGE, HEAVYWEIGHT, 10CM, BROWN
3 x FRS034 BITE & ITCH RELIEF, 1G SACHET
1 x FLI010 SNAKE 'N' SPIDER BITE INFORMATION BOOKLET. FOLD-OUT A5 SIZE FIRST AID BASICS
Intended Purpose
A convenient collection of equipment and materials for the rapid, initial treatment of an injury.
Health Warning
Always read the label and follow the Directions for use.