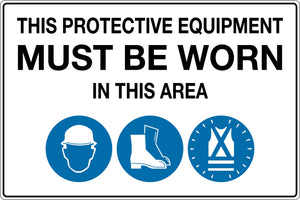 Key features include:
This 'Mandatory Sign' is a clear, visual reminder that protective equipment must be worn in the specified area. It features screw holes in each corner for secure placement and images of a hard hat, steel capped work boots and hi-vis safety vest. Constructed from metal, poly or corflute, it's an essential safety sign in the workplace.
Mandatory signs indicate that a certain direction must be followed.

Complies with AS 1319.
Available in various materials and sizes.