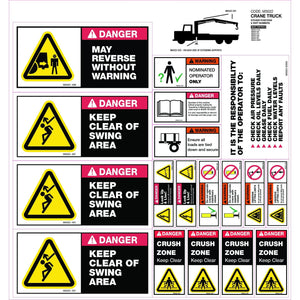 Key features include:
Product Description: This set of safety stickers and decals is specifically designed for truck cranes, ensuring that all necessary safety precautions are clearly communicated to operators and workers. The set includes a variety of stickers and decals, such as warning labels, safety instructions, and hazard symbols, all made from high-quality materials that are durable and weather-resistant.
Features:

Designed specifically for truck boom cranes
Includes a variety of safety stickers and decals
Made from high-quality, durable materials
Weather-resistant
Benefits:

Clearly communicate important safety information to operators and workers
Ensure compliance with safety regulations and standards
Increase safety awareness and reduce the risk of accidents and injuries
Easy to apply and long-lasting, providing ongoing safety reminders for the life of the crane.
Contains:
Danger Stickers
Notice Labels
Warning Labels
Pinch Point Stickers
Emergency Stop Sticker
Operator Daily Check Sticker
Code: P-LAB-2503-MSS022