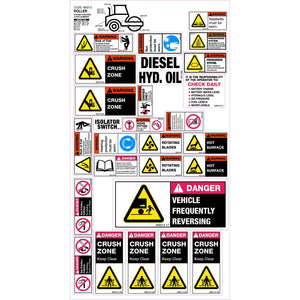 Key features include:
Product Description: This set of safety stickers and decals is specifically designed for roller machines, ensuring that all necessary safety precautions are clearly communicated to operators and other personnel in the area. The set includes a variety of stickers and decals, each with a clear and concise message to promote safe operation and maintenance of the machine.
Features:

High-quality material for durability and long-lasting use
Easy to apply
Includes a variety of stickers and decals for comprehensive safety messaging
Designed specifically for roller machines
Benefits:

Promotes a safe work environment for operators and other personnel
Helps to prevent accidents and injuries by clearly communicating safety precautions
Durable material ensures long-lasting use and visibility of safety messaging.
Contains:
Danger Stickers
Notice Labels
Warning Labels
Pinch Point Stickers
Emergency Stop Sticker
Operator Daily Check Sticker
Code: P-LAB-2503-MSS013