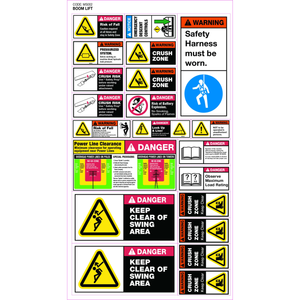 Key features include:
Product Description: This set of safety stickers and decals is specifically designed for boom lifts, ensuring that operators and workers are aware of potential hazards and safety protocols. The set includes clear and easy-to-read labels for crush zones, risk of fall, and other important safety information.
Features:

High-quality material for durability and longevity
Clear and easy-to-read labels and decals
Designed specifically for boom lifts
Compliant with safety regulations and standards
Benefits:

Promotes a safe working environment for operators and workers
Helps prevent accidents and injuries
Easy to apply and use
Compliant with Australian safety regulations and standards, ensuring peace of mind for employers and employees alike.
Contains:
Danger Stickers
Notice Labels
Warning Labels
Pinch Point Stickers
Code: P-LAB-2503-MSS002