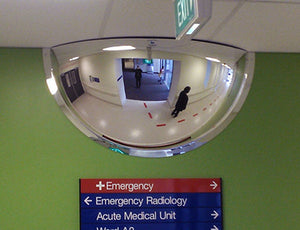 Key features include:
Half dome mirrors are ideal for broad view observation providing over 180 degrees of vision. This acrylic version is for all general-purpose applications and for indoor use only. 
We also provide a fully covered version (deLuxe) with a lightweight vinyl back and lid to enclose the cavity so that no dust, garbage or other objects can be left inside and will not require any constant cleaning out.

Key Features:

Suitable for all indoor applications where a 180° vision is required (T Intersection).
General office situations for corridors and reception areas.
Ideal for busy hospitals corridors to avoid collisions and waiting room observation etc.
Indoor Warehouse or Industrial applications such as general forklift areas and where pallet racks end in a T intersection.
Child Care Centres for supervision of children in bathrooms, toilets, change rooms etc (DHS Compliant).
Light weight design - mount to any suitable wall solid or cavity.
Mirror face manufactured from 2mm 'optical grade' acrylic.
Install to walls or pallet racks (not suitable for ceiling mounting).
Dome Capped Screws supplied for fixing directly to the wall.
Wall Plugs and Screws supplied for DeLuxe Half Domes.