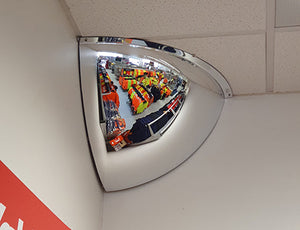 Key features include:
Indoor quarter dome mirrors are ideal for broad view observation providing over 90 degrees of vision. Quarter domes are discreet and fit between the ceiling and corner junction of two walls and provide 90 degree vision horizontally and directly below the mirror.
Key Features
Indoor applications - Where a discreet installation is desirable or lack of space excludes a convex mirror.
Office General - Blind corners in corridors, reception areas, hospitals, waiting rooms.
Warehouse or Industrial use indoor - We recommend a convex mirror as the better choice.
Child Care Centres - observation of children in day rooms, bathrooms and for DHS Compliance.
Light weight design.
Mirror face manufactured from 2mm 'optical grade' acrylic.
Install to corner ceilings.
Dome Capped Screws supplied for fixing directly to the ceiling.
Click here to view our
Workplace Traffic Management Consulting Solutions
.