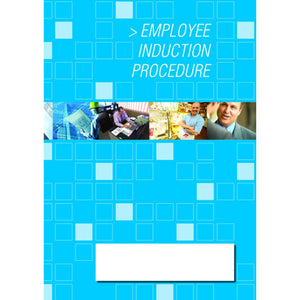 Key features include:
Product Description: The Employee Induction Procedure Checklist Logbook is the ultimate tool for ensuring that new employees are properly onboarded and trained. This logbook includes a comprehensive checklist of all the necessary steps for a successful employee induction process. With this logbook, you can easily track the process with each new employee and ensure that they are fully prepared to excel in their new role.

Key features include:
Handy A4 size logbook
In-depth form covering the induction process with a simple 'Tick the Boxes' system
Company structure, policies, procedures, apparel and safety attire
Comes in a pack of 10 individual forms with 1 durable plastic folder with swing clip
Supplied in a resealable plastic pocket
Easy to use
Australian made
Helping you comply with your WHS obligations
Can't find what you are looking for? We customise to your requirements, no minimum quantity. Contact us or phone 1300 553 371 to discuss your needs.