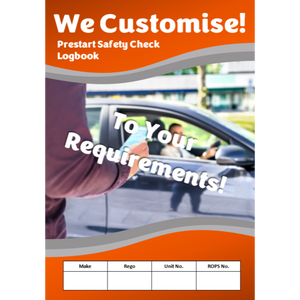 Key features include:
Are you tired of using generic, one-size-fits-all prestart checklists that don't quite meet the specific needs of your business or industry? Look no further! Our custom prestart checklist logbooks are designed to cater to your unique requirements, ensuring safety, efficiency, and compliance at all times.
Why Choose Our Custom Prestart Checklist Logbooks?
Tailored to Your Needs
We understand that every business is different, and that's why we offer personalized prestart checklist logbooks. Whether you operate in construction, manufacturing, transportation, or any other industry, our experts will work closely with you to create checklists that address your specific equipment and operational procedures.
Compliance Made Easy
Staying compliant with industry regulations is crucial. Our custom logbooks are designed to align perfectly with the relevant safety and regulatory standards, making audits and inspections a breeze.
Enhanced Safety
Safety is our top priority. By tailoring your prestart checklists, we ensure that potential hazards are identified and addressed, reducing the risk of accidents and injuries in your workplace.
Efficiency and Productivity
With checklists that are optimized for your workflows, your teams can complete prestart checks quickly and efficiently. This saves time, streamlines processes, and maximizes productivity.
Professional Branding
Showcase your company's logo, colour scheme, and branding elements on the logbooks. This reinforces your brand identity and adds a touch of professionalism to your operations.
How It Works:
Consultation
We start by understanding your business, equipment, and specific requirements through a detailed consultation process.
Customization
Our team of experts will tailor the prestart checklist logbooks to align with your needs, safety protocols, and industry standards.
Design and Branding
We'll incorporate your company's branding into the logbooks, giving them a personalized touch that represents your business.
Review and Approval
You get to review and approve the final design before we proceed with printing.
High-Quality Printing
We utilize top-notch printing materials and techniques to produce durable and reliable logbooks.
Get Started Today
Don't settle for generic checklists that don't suit your business's unique requirements. Contact us today to get started on creating your custom prestart checklist logbooks. Our team is ready to assist you every step of the way to ensure your workplace operates safely, efficiently, and in compliance with industry regulations.
Remember, safety starts with the right checklist, and our custom logbooks are here to make a difference!
Some features that have been requested:
Custom cover designs with company logo
Books that can be used for Rideshare, Lyft or Uber
Custom colour schemes
Custom prestart forms for specific rare machinery types
We Customise to your Specifications!