Why use Flexible Impact Barriers in my workplace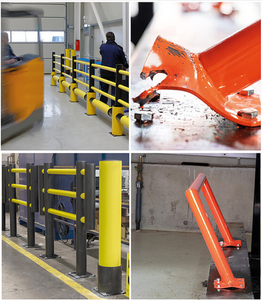 A great question around barriers in the workplace, as for a long time the industry only had a range of steel barriers with no alternative. 
In todays world where business owners and managers are looking for ways to reduce costs and increase profitability flexible impact barriers have become the go to barrier solution.
The following is a helpful comparison table for steel and poly flexible impact barriers:
| | | |
| --- | --- | --- |
| Common Issue | Steel | Poly |
| The barriers chip and need recoating | Yes | No |
| When the barriers get hit they need to be replaced | Yes | No |
| When the barriers are hit they pull the floor fixings out of the concrete | Yes | No |
| Make good on a building is high due to lots of concrete repairs | Yes | No |
| Suitable for use in food handling areas | Yes | Yes |
| Suitable for use in food manufacturing areas | Sometimes | Sometimes |
| Forklifts and MHE equipment are damaged and scratched from impacts with barriers | Yes | No |
| Environmentally Friendly | No | Yes |
| Recyclable Product | Yes | Yes |
Our range of d-flexx flexible barriers takes away a lot of the common issues
One little know fact of poly barriers is that Poly is hard to damage and will usually return to its original shape due to the cell structure that is achieved through the manufacturing process.
With our d-flexx Flexible Impact protection all these problems are now things of the past! 
The products of the d-flexx range absorbs the impact forces due to its flexible polymer material. Hardly any energy is directed via the floor screwing. Due to this fact, flexible impact protection doesn't break out of the ground. Cost intensive floor repairs and downtime are prevented!
No more damages and scratches on your forklifts and pallet trucks - that's what you get with d-flexx! Due to the deformable polymer material and the round forms, your vehicles won't get damaged in collisions any more and bumps get prevented effectively.
Our flexible impact protection d-flexx consists of coloured-through polymer material. The products are not coated or lacquered. This means for you: Never again problems with rusty impact protection and unwanted particles!
In aggressive working environments, e.g. in the chemical- or food processing industry, with high demands on chemical and corrosion resistance of the installed impact protection, steel is the wrong choice. With its polymer material, d-flexx is extremely resistant and rustproof. The completely closed system prevents a contamination with unwanted particles and pests.
Black and yellow coloured, it's highly visible, even from a distance. Present external visitors your perfectly protected machines, internal driveways and racking and leave a good impression of your company.
Our range of d-flexx flexible barriers is available for DIY install or our team of experienced installers can come to your site.