Do I need pedestrian barriers or forklift barriers?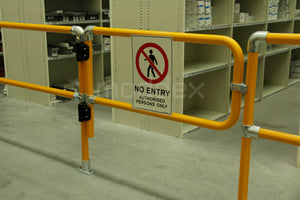 Often, we see people using no barrier at all in their workplace as they are not sure of the correct barriers to use. 
The selection of barriers is dependent on the application for the barrier as well as the risks that are being reduced. 
Pedestrian barriers are typically designed to keep pedestrians on pathways and stop them straying into high risk areas such as vehicle zones or forklift zones or production areas.
Forklift barriers are typically designed to protect pedestrians and assets from damage or injury from forklifts and vehicles in the workplace while keeping pedestrian on a pathway. 
When selecting a barrier it is also critical to take into account the operating environment of the barrier eg inside, outside, harsh environment or a wet environment and ensure the barrier will last without the need to be replace regularly. 
Barriers are one of the largest expense items in a workplace and when the incorrect one is chosen become more of a hinderance or introduce further risks to the workplace.
For an obligation free site visit to ensure you select the right barriers, feel free to contact our team on 1300 553 371.