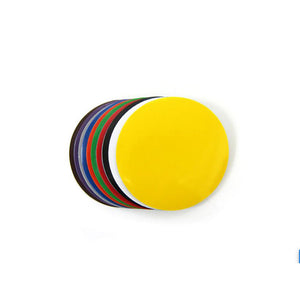 Key features include:
Proactive Group Australia supplies a range of SafetyTac® Dots - Floor Marking Shapes to industries Australia wide. They are designed to suit every workplace.
SafetyTac
®
Dots can assist with organizational, 5S, and safety efforts. They are typically used to mark boundaries. You can also use them in high-traffic locations where tape lines struggle to hold up. If a forklift or pallet tears one dot off the floor, it's much easier to replace that dot than it is to replace an entire run of tape. SafetyTac
®
Dots are made using the same high-quality, industrial material as our SafetyTac
®
tape, which means they can withstand forklift and truck traffic. They will also hold up to water, chemicals, and UV rays. These dots are easy to install, so you won't need to worry about downtime during installation. They also have a low profile so they won't interfere with your facility's operations.
Features
Durable, low profile PVC material
Peel & stick application
Forklift, traffic, chemical, UV, water, wear-resistant
4 sizes available
Order online today with Proactive Group Australia and we will dispatch your SafetyTac® Dots - Floor Marking Shapes or Contact us on 1300 553 371 to discuss your requirements.
Click here to view our
Workplace Traffic Management Consulting Solutions
.