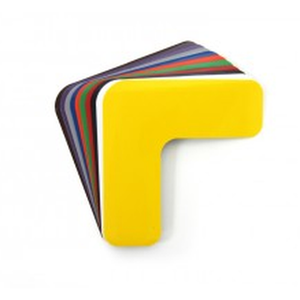 Key features include:
Proactive Equipment supplies a range of 5S Corners Floor Marking Shape to industries Australia wide. They are designed to suit every workplace.
Durable, low profile PVC material
Peel & stick application
Forklift, traffic, chemical, UV, water, wear-resistant
Rounded or straight edges
Great for 5S projects, Lean projects, and organization
Size: 150 mm x 150 mm x 50 mm
25 corners per pack
Use 5S Corners to assist with organizational efforts by marking the locations where pallets, machinery, and other equipment should be placed. These corners are great for 5S and Lean programs that focus on using space effectively and for keeping spaces organized. They are made using a high-quality, industrial vinyl material so they can withstand forklift and truck traffic. They will also hold up to water, chemicals, and UV rays. These corners are easy to install, so you won't need to worry about downtime during installation. 5S Corners also have a low profile so they won't interfere with your facility's operations.
Order online today with Proactive Equipment and we will dispatch your 5S Corners Floor Marking Shape or Contact us on 1300 553 371 to discuss your requirements.
Click here to view our
Workplace Traffic Management Consulting Solutions
.